The Business Support Scheme
Antelle IT Ltd is accredited under the Isle of Man Governments Business Support Scheme (BSS) to provide grant assisted consultancy, advice, and projects.  Registered under two of the ten scheme categories our consultants can provide various services, examples of which are outlined below.
Creating a Website
Selling via your Website
Internet Marketing & Promotions
Business to Business Processes
Business to Consumers Processes
Integrating Websites with other Line of Business Applications
Creation of Web Portals
Strategic Review
Feasibility Studies
Systems Design and Audit
Systems Management
Systems Development
Currently, if you are eligible for support via the scheme, you will have to pay, from your resources, one-half of the agreed costs of any subsequent consultancy. The Isle of Man Government will pay the other half up to a maximum of £4,500 + VAT
Please contact us for further information on this scheme and the current eligibility criteria or visit the Isle of Man Government's BSS page here.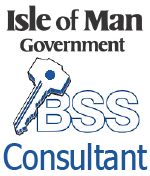 Back to Consultancy